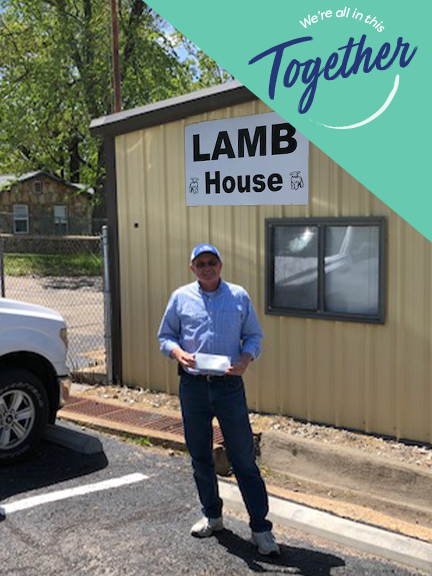 Summit Natural Gas of Missouri Give $2,000 to LAMB House Food Pantry
May 27, 2020
Branson, MO – Summit Natural Gas of Missouri (Summit) gives $2,000 to LAMB House Food Pantry as part of the company's COVID-19 relief efforts. The organization will use the donation to supply food, clothing, utility and prescription assistance to community members in the Camdenton area.
"LAMB House is very grateful for Summit's support," said, Gary Mitchell, Director. "Given the impact of the current COVID-19 pandemic, Summit's generous support could not have come at a better time in helping us to serve several hundred residents of Camden County. During this unprecedented time in our country's history, we feel a deep sense of gratitude for living in a caring community that keeps the needs of others in mind when giving."
"Summit is proud to present this grant," said Phil Marcum, Senior Manager Business Development. "We understand that we are all in this together. LAMB House plays a critical role in the Camdenton area providing nutritious food, clothing, and other assistance to struggling Missouri families who might otherwise go without during this unprecedented health crisis. Providing these resources is one way that we can support our customers and community members who are immediately impacted by the COVID-19 crisis."
The company has committed twenty thousand dollars overall to COVID-19 relief efforts in Missouri. In addition to donating to LAMB House Food Pantry the company is also contributing to Benton County Food Pantry, Blessings in a Backpack, Crosslines Ministry, Elevate Branson, Hughes Center Meals on Wheels, L-Life Food Pantry, Love Center Food Pantry, Missourians United to Combat Hunger, Inc. (M.U.N.C.H), Samaritan Outreach Center, VFW Post 5923 and Wright Crisis Center.
On top of providing financial support to nonprofit organizations throughout its service territories, Summit has also suspended natural gas disconnections for nonpayment and is working with customers who may need payment assistance, arrangements, or extensions.